Thanksgiving has finally come to a close, and now the craziness before Christmas can begin! Yesterday went really well. We only had one tantrum/meltdown from Sassy that took a good 30 minutes to recover from, but otherwise they did well (with a nap in the middle of the day). This past week was our first scheduled "vacation week" since we started our school year. The funny thing is we did everything except our work boxes. The kids love school and don't want a vacation! How could I say no to that? I planned a project or activity for each day of this week. Some of them we did, others we didn't do.
Operation organization update: In short....I'm not done yet, but I am making progress! I will be the first one to admit, I didn't make my goal to get it all done before Thanksgiving. I tried but I tend to overestimate the amount of time in the day, and schedule a little too much for myself on a weekly basis. Updated pictures are to come.
Our Thanksgiving Week:
I had some cute scarecrow pictures I had found 2 years ago at the Target dollar area that we painted with water colors.
Sassy decided to pain her fingers instead.
Peanut really got into it.
We had a pajama day....
And lounged around.......
I had to share this one! Peanut independently snapped together some blocks and made a "vacuum"!!!
We painted our fingers (which made Sassy really happy!) and made fingerprint Turkeys. Sassy named her's "Tom". I forgot how small the kids fingers were, and so they came out pretty small, but still cute.
I found a great color by number from the Thanksgiving pack from
1+1+1=1
in the Thanksgiving Tot Pack. Sassy wanted nothing to do with it, but Peanut was very interested to do it one on one with Mommy. I think he did a great job!
We also make a Thankfulness tree. I cut out a handful of leaves and a tree, and we sat at the table and talked about the things we were thankful for. The kids told me what they were thankful for and I wrote it on the leaves. I think the funniest one is "The box of markers." My most favorites, "School with Mommy", "God", and "Jesus".
On Thanksgiving morning I unveiled our "Thanksgiving Box". It doesn't look like much here but it is packed full of Thanksgiving activities for the kids to use. I thought it would be a nice change from the Tot books we have been using. I took each activity and put them in their own zip lock bags to keep it organized. We had a long day of Thanksgiving festivities planned and this was a great way to keep them entertained while still learning.
The Thanksgiving box
The inside of the box contained printables from multiple sites. I laminated them all with self sticking sheets or with clear contact paper (my favorite option). All of the sites have awesome printables for all occasions and subjects. I recently discovered dry erase crayons, and the kids LOVE using them on laminated sheets. Here is where I got all of the printables:
Our little Monkeys: Little adventures Preschool
: Small number puzzles, turkey game (pin the feathers on the turkey), short path game, matching, and geometric solids.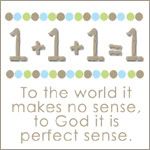 1+1+1=1
: Turkey colors, Little people sizes, match the pilgrim to the mayflower, patterns and letter match up.

Homeschool Creations
: Match the Pilgrim to the turkey, size sorting, patterns, number puzzle, word to picture matching.
Here are the contents of the box.
Our New Discovery:
Peanut has had struggles with writing and coloring for a while. One day he just decided he didn't want to write anymore and would cry when I asked him to color. None of the therapists could figure it out, but I knew there had to be something more to it, I just wasn't sure what. Then on Wednesday I got an email from Lori over at
Montessori for Everyone
. She saw a picture of Peanut holding a pencil and suspected
Dysgraphia
. After reading about it...the light bulb went off.... that's it! I have to say writing this blog has blessed us in so many ways, this is just another blessing and answer to prayer! I immediately went to work researching to find out how to help Peanut. While I was running some last minute errands on Wednesday I purchased a handful of materials to use to help strengthen some of the fine motor weakness in his hands and encourage the correct grasping for a pencil. Now that I know what may be wrong, I know what we may need to do in terms of modifications. I am so grateful to Lori for that email!
While I was out I also found this cute little game using tweezers. What and awesome fine motor game! It's called
Scatterpillar Scramble
. It is now the new favorite game for the kids.
They did a great job!
And finally.....it was time for Thanksgiving and our gigantic table. Notice the centerpiece??
I hope everyone had a wonderful, safe, and happy Thanksgiving. We have so much to come for our blog. We are slowly growing and learning more and more. I'm hoping to finish Operation organization, conclude our journey with Therapeutic Listening and redesign My Angels and Autism, and then of course...there is Christmas.

God Bless!
Mommy Provost